My FreeCams and other sites that offer erotic live streams and chats didn't lose its popularity with years. More than that, in 2020 (due to all known circumstances) new generation started again to show interest to resources of that kind. However, not all of them are equally convenient, fast, cheap, and has a big choice of facilities and members. On the Internet, there're controversial My FreeCams reviews concerning it's not that popular status and old fashioned website design. So, let's get this straight and find out whether all the features of this resource, which promise paradise pleasure without leaving home are as good as it was described by developers!
What is MyFreeCams?
MyFreeCams is a genuine pioneer of its genre. All the fun here began back in 2002! Today, about 5 million people use it annually. This is quite a small amount comparing with other giants of this business. However, it confidently occupies its calling. Thus, you can with certainty call MFC niche site at present. But it has its advantages and unique features, which you will learn about a little later.
According to the rules of the site, it is forbidden to show nude body parts and obscene content here. However, this rule is violated even by the developers themselves. They don't pay attention to the huge number of profile photos that definitely cannot be identified by face. Therefore, intended as a service for conversation it became a porn site of full value.
Very strict selection occurs only by age. Users under the age of 18 won't be able to register on the site or later they will be deleted by admins.
Payment for services namely private messages and streams is carried out by tokens that users buy while registering for a paid subscription.
Generally speaking, MFC is a video chat where models can sexually entertain their viewers and get bonuses for that.
How Does MyFreeCams Work?
Female models, usually these are non-professional users with the help of their webcam, broadcast on the site. Since each model does whatever she wants the content of the stream can vary from flashy conversations and striptease to masturbation and various games with sex toys. Sometimes girls just sit naked in front of their cameras and talk to the viewers. Site users can purchase tokens or coins, which later they give to models asking them to do something that they want. Some girls use vibrating toys that are connected via Bluetooth to the app on the phone. Thus, when someone gives a token, the toy begins to vibrate. You can also buy private shows for tokens. In addition to the above, the site also has some additional features or bonuses. Let's take a closer look.
Premium streams
When you first buy tokens, you automatically get a premium subscription, which allows you to be a full-fledged part of the stream. Comments, tips and likes to models during the broadcast greatly increase their rating.
Tips or compliments
Tokens are a kind of internal currency not only on this site but also on other sites of this kind. As stated earlier, during the broadcast you can tip models. For that, they will fulfill your desires. Every model has a particular price for her "services".
Cam2Cam
For a particular amount of tokes, users can take part in a video call with models. The price is up to the model.
Profile design
Member profiles on various social networks and porn/stream sites aren't likely to be personalized. Normally they have general form and theme. Users cannot change any information given here. On MFC clients can arrange their profile as they like to highlight important information to attract other users. Plus it's helpful while searching for a model as you can point on those criteria you need.
Double pleasure
Very few sites allow you to watch two streams simultaneously. In addition, you can be in an unlimited number of chats at the same time.
Pros
Free registration;
Big amount of functions without charge;
Site supports mobile version;
Personalized profile;
Sex toys operations;
Personal streams;
Your wishes for tokens (tips).
Cons
The design of the site is outmoded. Not all users like it, especially young ones.
No 24/7 support on the site. Some issues due to connection within e-mail will be solved longer.
E-mail confirmation is mandatory. Another long-forgotten feature for such a site.
There are a few bonuses and special settings. This site loses much comparing to newer counterparts.
There is also no mobile app which makes the process less convenient.
Top MyFreeCams Models
The unique page for users doesn't exclude unique pages for models. Each girl creates her profile or room as they call it following her vision. Below you will find 3 top model profiles.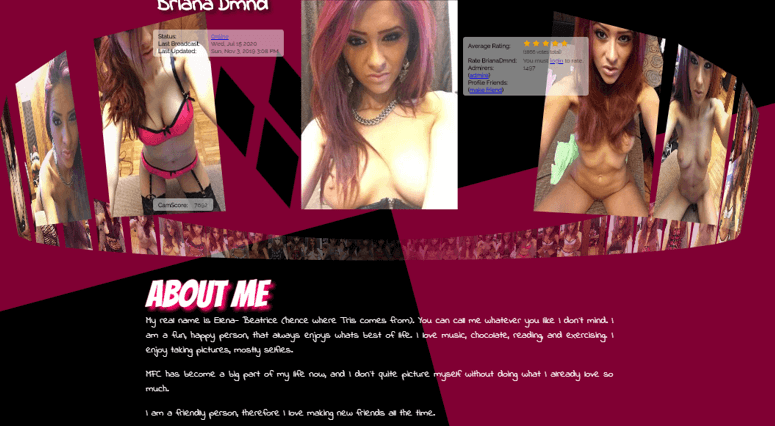 Each model tries to present her best and make up a special atmosphere in her room. There's always a rule section. These rules are necessary to follow by users.

Also, you'll find a tip menu on the profile of each model. Prices aren't fixed.
MyFreeCams App
App is not available yet.
The desktop version is a little bit more complicated and it is more convenient to watch models' profiles here.
Only 30% of followers use the mobile site.
The average score of the mobile/desktop website is 3.5.
Using browser mobile version is more profitable as it consumes less phone memory.
Of course, the mobile version of the site is more convenient than opening video chat in a browser since in most cases users log in from their phones. However, it should be noted that in the mobile version everything is more miniature, and the functionality of the site is quite extensive. For this reason, to use the mobile version of the site you need to get a little practice.
While watching stream you need to scroll down every time you want to check up tips menu.
Before you enter the site on your mobile you'll be asked whether you want a mobile version or browser.
The site design seems outdated and filled with unnecessary features. But in fact, everything is easily operated. On the main page, you'll see more than 1000 models. These girls are now in their online rooms and they are ready to fulfill your desires. Under each model photo, there is a menu. You can open it. There you will see a preview of the girl's profile and a video of the current broadcast. Click on the profile if you want to know a little more about the model you like and get acquainted with the rules of the room, as well as with tips menu. There also could be a model's wish list and some photos and videos from the best streams. If you want to join the chat and watch the broadcast you need to double-click on the video. You'll see a video and chat where you can talk to a model and send tokens.
The main color scheme of the site is green and white, but you can change it up to your taste. Just like the profile of each model will look of the ordinary. Décor depends on her imagination. Today, some profiles' designs look rather creepy than extraordinary, as you can taste the outdated design. However, the main drive takes place on broadcasts, and decoration of the models' profiles isn't, in principle, so important.
For the convenience of visually impaired people, you can configure a larger display of profiles on the main page. There are several options.
Another advantage of the design is the ability to hide some personal information. To do this, you need to get into the settings. This option is available both in desktop and mobile versions.
MyFreeCams Member Structure
Up to 1500 models online;
120 000 members visit the site monthly;
80% of users are males about 35 years old;
Users mainly from the USA;
Premium membership allows to join club shows;
Models are between age 18 to 34;
MFC is used by 5 million people annually.
As you can see, men are mostly interested in the site, although the vast majority of models are women. The number of models on the site is more than 15% of the total number of registered users.
Since interest in porn sites is mainly dictated by age characteristics, community members are young people (up to 40 years old).
To get access to interaction with models you need to buy a premium account.
How to Register?
The registration process is extremely easy. To sign-up, you need to be over 18 years old. Make up your user name. Enter the e-mail address and create a password.
This site has a little out-of-date system – you need to confirm an e-mail. After that, you are already registered. However, you aren't able to write in chats where models blocked users without tokens. Newbie users need to have additional confirmation of their age and payment ability to buy tokens. Users younger 18 years old or 21 years old (depending on their residence) can't have a premium account.
Well, you may become a model if you want. Then you need to go through the registration form for models. They earn good money from their show based on the viewer's response and their performance quality. More visitors, more token as a result – more money. Average cam girls earn $3-5 per minute of their stream. So, the salary varies from $200 to $1000 a day!
Token Value & Price
MFC is available for subscribed and unsubscribed users both for free and on charge based options.
Free options:
Registering;
Streams;
Form your list of friends;
Your profile design;
Bookmarks;
Hunt for models.
Paid subscription:
Tips;
Spying;
Club and group shows;
Private video and text messages;
Cam2Cam option;
Chatting with models, that has blocked this option for users without a premium account.
Every user who bought at least one token pack automatically becomes an owner of a premium account. All token sets have fixed prices, plus you can buy from MFC in USD only. That doesn't depend on your location.
So, being an unpaid user you have asses for basic services, though buying at least one token pack makes you a king among anonymous. Truly speaking MyFreeCams.com is an expensive site, though it doesn't seem like that from first glance. Tokens cost from $0.10 to $0.08 per coin, but models want on the average 3000 for your erotic wish.
Payment Methods
The only payment method available on MyFreeCams is Credit Card. It'll be Conveniently, the name of this resource will not appear directly in the payment history. Many people are embarrassed by this or such expenses negatively affect their credit rating.
Moneyback Guarantees
"Tip at your risk!" This is the MFC motto. They don't refund tokens given to models. However, you may write to support negative feedback on the model who didn't satisfy you.
You can receive your tokens back (unless they were tipped) up to the 30th day of purchase. Prize tokens could be refunded in the sum not more than $1000.
FAQs
For those who still have questions about My Free Cams resource answers below will be useful.
Is MyFreeCams Legit?
Yes, it is. More than that, your information here will be saved as it is encrypted to 128-bit going through other resources. Plus, your credit card isn't reachable for MFC. Payments proceed from other companies.
How to get free tokens on MyFreeCams?
You can earn free coins by purchasing paid tokens. Thus, 1 free coin costs 10 purchased tokens.
Who owns MyFreeCams?
Owners of MFC are real employers. To contact admins use [email protected] for models and [email protected] for removers.
How to tip on MyFreeCams?
After buying a token pack you have such an option in the chat.
How to delete MyFreeCams account?
Ask for a token refund and delete your account in the settings.